Repeatable Process Control
Temperature • Time • Flow Rate
• Process parameters are set - dwell time, flow rate, temperature •
• and heated area.
• Reduced operator responsibility for safe selective soldering or
• removal on the most delicate or thermally challenging assemblies.
• High thermal mass (molten solder) equates to low operating
• temperatures.
• Operator intervention is minimized - no pressing tips or overheating
• solder mask or pads.
Preheater Module (PCBRM System 5.2)
• Each zone has a closed-loop temperature control system, accurate
• to within 1% of full scale.
• Mounted on a rail slide to allow front and back positioning.
• A front mounted safety guard is provided.
Board Temperature Sensor (PCBRM System 5.2)
• A thermocouple is attached to the board and the temp is digitally displayed.
• When the preheat temperature is reached, an audible tone prompts the
• operator to move the assembly from the preheater to the solder wave.
Preheat Provides (PCBRM System 5.2)
• Reduced time and temperature requirements for heat absorbing
• assemblies or high temp heat alloys.
• Minimizes copper dissolution in PCB barrels caused by excessive
• heat and dwell time.
• Minimal thermal shock, localized PCB warpage and no component
• overheating.
• Eliminates operator handling of preheated assembly.
• Establishes the repeatable starting thermal condition.
• Promotes flux activation.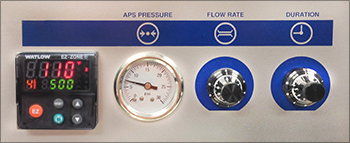 Fast, Simple Process
Easy to use controls for precision repeatability.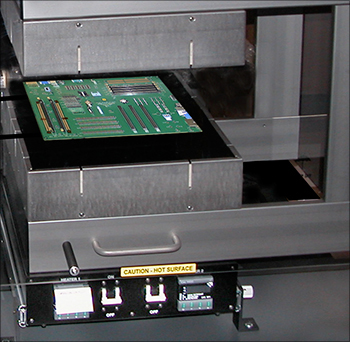 6500 watt Preheater
Flexible preheat area for extra large boards and hard to heat assemblies.